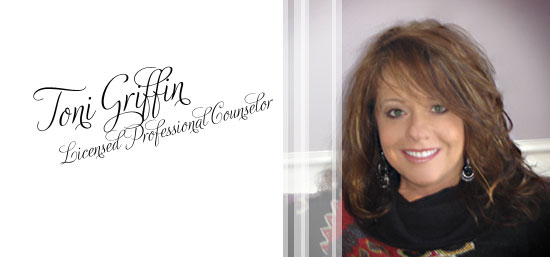 Toni Griffin believes in taking an active path to healing. She combines an eclectic mix of theories and techniques to create a unique approach based on each client's individual needs. Her insight and discernment are essential characteristics to her ability to help clients discover hindrances to their emotional health and well-being.
Toni's empathy and compassion create a safe atmosphere for her clients. She uses session work and homework as tools in guiding her clients through healing and into healthier changes. She understands that the counseling process takes diligence! However, desiring healing will participate in the work to achieve the optimum results.
Toni received her Master's degree in 2000 from Jacksonville State University in Jacksonville , AL and became a Licensed Professional Counselor in the State of Tennessee in 2005. She completed an internship at Grace Ministries Tennessee and has studied some Theophostic Counseling as well.
Toni enjoys being around people. She was raised in a small town in Alabama with strong family ethics. She loves adventure and being creative. She finds great joy in assisting others on their journey to wellness!